Every year, the grand Al Dhafra Water Festival takes place. This multi-day event implements various activities aimed at preserving the city's heritage and introducing new activities. But the part that attracts the most people is the grand water festival held on Al Mughirah beach.
The 14th Al Dhafra Water Festival
This grand water festival not only attracts people from all over Saudi Arabia but also from other countries to attend this annual event which will begin on Thursday, March 9th.
According to the Emirati news site, this water festival will be the largest ever organized. This year it will be organized by the Abu Dhabi Cultural Programs and Heritage Festivals Committee in collaboration with the Abu Dhabi Marine Sports Club.
And indeed, water sports will be the main attraction. This is especially true because the Wing Foil Racing World Cup will be held at the Al Dhafrah Festival. Wing Foil is a water sport that is practiced using a wing and a surfboard. The practitioner uses the wind and their weight to move forward. It is a sport that has been gaining popularity for some time.
50 local and international participants will compete for the podium. But Wing Foil is not the only competition, and it will be open to the general public. The "Al Dhafrah Grand Kingfish Championship" will take place and registrations will be open for men and women between March 10th and 13th.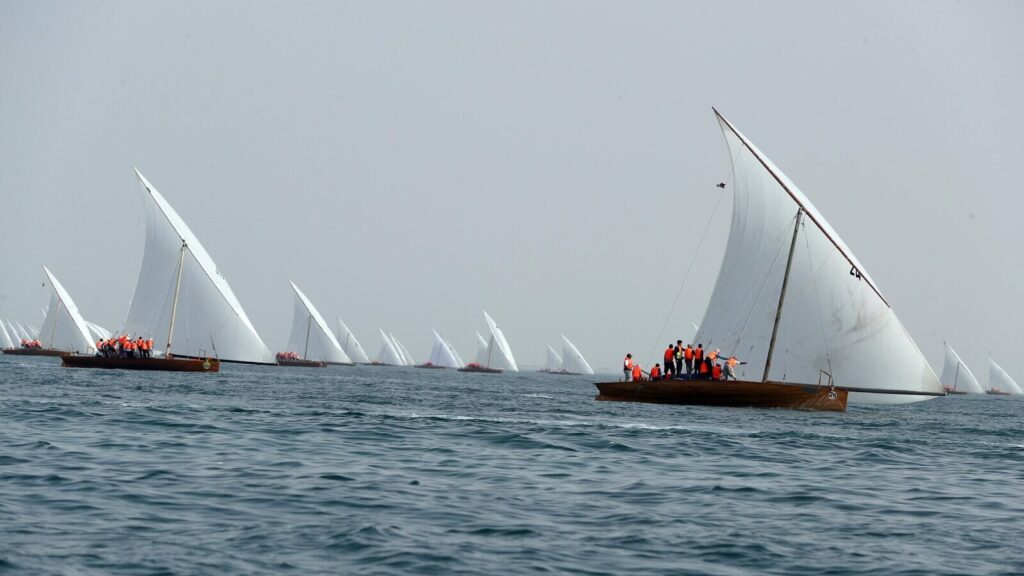 Every festival has a purpose apart from the entertaining aspect, as explained by Ahmed Thani Al Rumaithi, Vice President of the Abu Dhabi Marine Sports Club.
"These activities organized by various sports institutions will significantly contribute to the revival of several heritage sports.""The event aims to strengthen the authenticity of heritage and its presence among generations. The 14th edition will present a special harmony between traditional and contemporary sports. As a result, we expect significant participation from captains, sailors, and competitors in a variety of competitions."
The Other Aspect of the Al Dhafrah Festival
It is important to know that the fresh and maritime aspect of the festival targets more the international public. Because there is also another part of the festival that highlights the local culture.
For example, there are beauty contests for camels coming from all over the Arabian Peninsula. There are also races for prestigious purebred Arabian horses, as well as many other events that pay tribute to the dazzling and enriched culture of the Arabian Peninsula.
This festival is organized under the direction of H.H. Sheikh Hamdan bin Zayed Al Nahyan, who is the representative of the sovereign in the Al Dhafra region.
A real moment of pleasure for the people who will attend the festival.