In 2008, Manchester City was an average soccer club, well-known but living in the shadow of its illustrious neighbor, Manchester United. Today, thanks to Sheikh Mansour's vision, Manchester City is not only a giant of English soccer, but also a dominant force on the European stage. The historic treble in 2023 – victory in the Champions League, Premier League and FA Cup – is testament to the club's incredible journey.
A new lease of life for manchester city: the Sheikh Mansour buyout
In 2008, the life of Manchester City, a club with a modest past, took a significant turn. Sheikh Mansour, a member of the Royal Family of Abu Dhabi, acquired the club, injecting substantial financial capital. This acquisition not only changed the club's destiny, but also reshaped world soccer.
It was a paradigm shift, not just for the club, but for all of soccer.
said former player Shaun Wright-Phillips.
Khaldoun Al Mubarak took over as chairman of Manchester City in 2008, when the club was acquired by Sheikh Mansour. Under his leadership, the club has undergone a spectacular transformation. Al Mubarak orchestrated a strategy of massive investment in the club's infrastructure and workforce, attracting top global talent. But he has not only encouraged the recruitment of big names in soccer, he has also implemented a policy of developing young talent, creating one of the most renowned training centers in the world. The historic treble of 2023 is undoubtedly the fruit of his vision and leadership, making Manchester City one of the world's elite clubs.
Pep Guardiola: Legendary coach and philosophy of play
It's not just Al Mubarak and Sheikh Mansour who deserve credit for the skyblues' success, but also the many world-renowned coaches who have taken their place on the Man City bench. The club has seen the likes of Roberto Mancini, Manuel Pellegrini and, most notably, Pep Guardiola take the reins. Each has brought his own style and philosophy of play, helping to forge Manchester City's current identity.
Mancini, Premier League champion in 2012, laid the foundations for the club's current success. Guardiola, for his part, brought an attractive playing philosophy based on dominant possession and aggressive pressing. Under his leadership, City have won three Premier League titles. Guardiola declared:
"We created an identity, and the players adhered to this philosophy of play".
Manchester City: Transformed since 2008
Since the club was bought by Sheikh Mansour in 2008, Manchester City has undergone a meteoric rise (https://fr.laconcordemagazine.com/dubai-obtient-la-premiere-place-dans-2-zones-selon-le-global-power-city-index/) that has radically transformed its trophy cabinet. It began in 2011, when City won the FA Cup, ending a 35-year wait for a major trophy.
The following year, in 2012, they won their first Premier League title in a dramatic final, signing a memorable moment in the club's history. They repeated this feat in 2014, 2018, 2019, 2021, 2022, 2023 affirming their dominant position in English soccer.
In 2014, they also won the League Cup, a trophy they managed to defend in 2016, 2018, 2019, 2020 and 2021. The FA Cup was won again in 2019, underlining the incredible success the club has enjoyed on the domestic front.
Manchester city's historic treble in 2023: Champions League, Premier League, FA Cup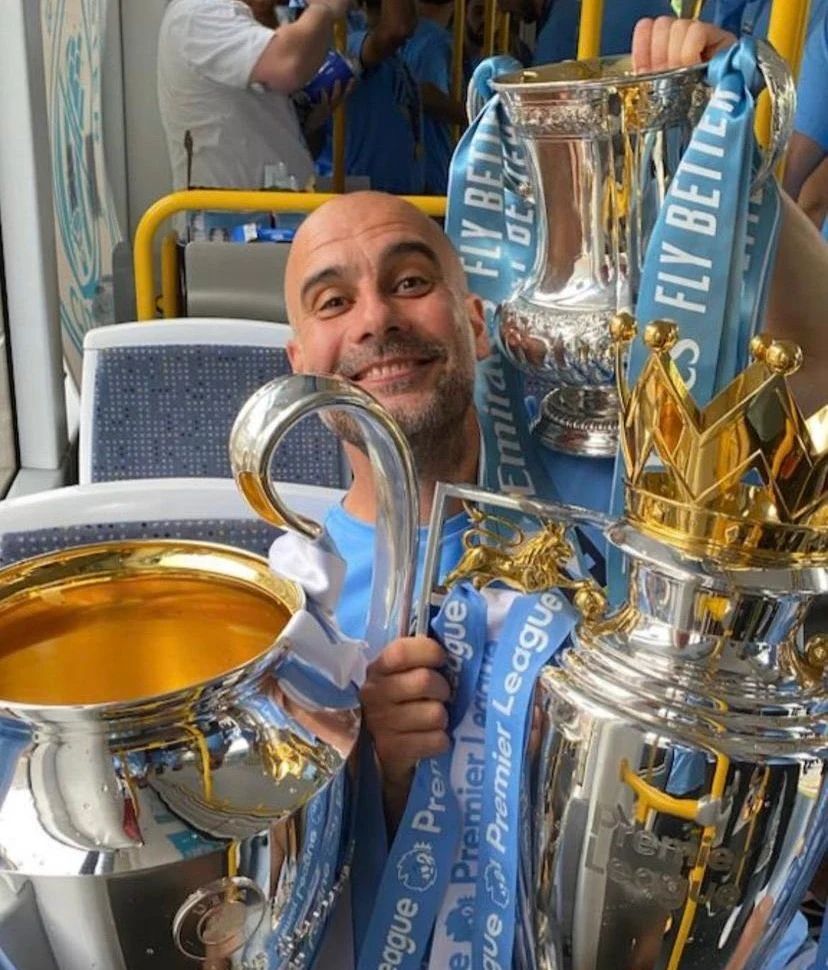 In 2023, Manchester City achieved what once seemed impossible: a historic treble. The Champions League, Premier League and FA Cup were all won by the Sky Blues. This achievement was the culmination of City's ascent, a true embodiment of the club's transformation. Kevin De Bruyne, City's playmaker, recalled the victory with emotion:
"This season has been incredible. I don't know how to explain it. The Champions League is what I've been fighting for for many years, and it's incredible that we've been able to achieve it with City…"
Manchester City's meteoric rise since the takeover by Sheikh Mansour has not only redefined the soccer landscape, but also placed the club among the world's elite. Today, the Sky Blues have become a force to be reckoned with, proving that bold dreams, backed by a clear vision and judicious investment, can become reality.