We're off on another journey of Emirati gastronomy exploration with Grant Marais the chef of Publique restaurant. This time, we're going to discover numerous creative date-based recipes during the "Date Connection" competition.
Publique restaurant: A finger-licking semi-final
To triumph during this phase of the competition, Grant Marais, the Chef of Cuisine at "Publique" restaurant in Dubai had to face two other competitors during a semi-final that took place at the Emirates Academy of Hospitality Management (EAHM) in Dubai.
This cooking competition, which includes the iconic fruit of the Middle East as the main ingredient, aims to showcase dates and explore the gastronomic possibilities it offers. These dates were provided by Saudi Dates, the official sponsor of the competition.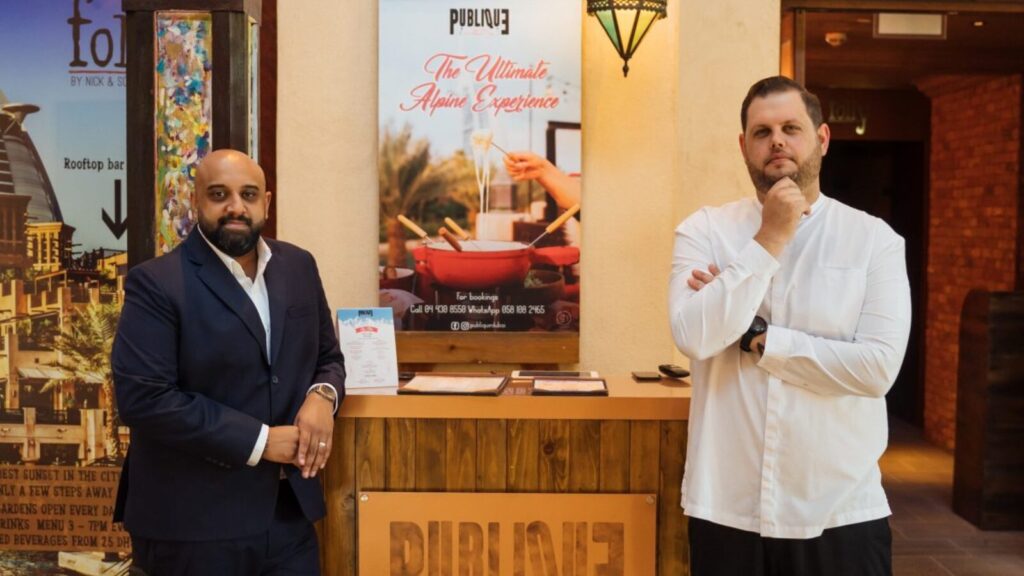 On the right, Grant Marais, designated as the head chef of the "Publique" restaurant, and on the left, Zukey Choudhry, the restaurant's general manager
The upcoming chef : Grant Marais
Among the semi-finalists, there was, of course, the winner of this part, Grant Marais, who prepared a braised beef rib in a date barbecue sauce. But there was also Michael Kitts from EAHM, who presented a banana and date soufflé, as well as Chanaka Sankapla Petris from the Pullman Dubai Hotel, who opted for a date tart.
In total, the competition hosted 34 chefs from various hotels and restaurants on the Arabian Peninsula. The initial phase was held online on the YouTube channel of the Emirates Culinary Guild, where participants innovated with all kinds of appetizers, main courses, and desserts based on dates.
The public scored the different dishes to qualify the semi-finalists, who were then judged by the committee of the Emirates Culinary Guild, led by its president Uwe Michael. Among the jury were also chef Bernard Charles, who heads the culinary sector at Bateel International, and Stefano Ferretti, who is the president of the Italian Academy of cuisine.
There is one more step for Grant Marais to take. The South African-born chef will compete in the final of this competition at Fieramilano during the TUTTOFOOD 2023 event from May 8 to 11.